Listen To Us by clicking the Play Button
The Essex County 4, has over 58 years of combined barbershop singing experience and talent. In 2014 they received recognition as "Most Improved Quartet" and last year won the Patriot Division "Senior Quartet Champions" award. The quartet's repertoire and sounds appeal to the young as well as pay tribute to the past. Their goal is simple: to have fun, sing well, and carry on the rich tradition of barbershop harmonies.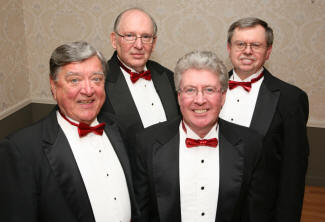 Consider hiring them at your next event. The quartet performs for private parties, social & business events and other special occasions. Rest assured, The Essex County 4 will provide quality entertainment for all your family and friends!
For more information regarding The Essex County 4 performances, email frantenor@comcast.net, call 781-595-3138, or go to the "Contact Us" link at the quartet's website: www.harmonize.com/essexcounty4.

Listen To Us by clicking the Play Button
The Village Voices began singing almost nine years ago and decided it might be a fun experience. They enjoyed themselves so much they picked a name and registered the quartet with the Barbershop Harmony Society. Since then they have sung to audiences as small as ten and as large as six hundred people.
The lead singer is John Sketchley. John has been singing for a number of years and after a hiatus of twenty years or so returned to singing barbershop style music just before joining the quartet.
The bass, Jack Dowd. Jack got a late start into barbershopping and has only been singing for about twenty seven years now. Jack had sung with the Lobstah Buoys and Imagine That before Wayne, John and Bob rescued him from a life of obscurity in the back row of a chorus.
The tenor is Ray DesChamps. Ray has sung barbershop style music for close to 40 years. He also has an uncanny ability to sing the lead, baritone or tenor parts in much of the quartet's repertoire and is a dedicated assistant director for the Northshoremen Chorus .
Bob LeJeune is the quartet's baritone. He is the seasoned veteran. Bob sang with a quartet at international competition in the early sixties called the "B Sharps". He then went nearly forty years before getting back into singing. Bob is thrilled he came back to sing with The Village Voices.
The quartet has a unique blend of voices and is just nice to listen to. They have a different repertoire and are working on songs that are more contemporary. They look forward to entertaining and singing for the public for a long time.

Listen To Us
(coming soon)