Let's Celebrate! No, don't hesitate.
... SO GLAD YOU STOPPED BY
We are The Essex County 4, an a cappella quartet specializing in the barbershop style. The quartet began ringing chords together in early 2011 and are always eager to provide quality entertainment for both your friends & family. We perform in both large and small venues and in 2015 were awarded "Senior Quartet Champions" at NED quartet competition. All of us also sing with The Northshoremen Chorus in Beverly, MA.
Sing Outs:

Need live music for your next event?... Consider The Essex County 4 for engagement parties, senior citizen entertainment, holiday parties, birthdays, church fairs. And as part of our Chorus's Singing Valentines and Mother Day programs, we're melting the hearts of many love ones all over the North Shore of Boston.
Bios: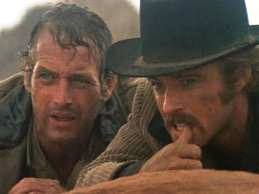 Who are these guys? Between us, we have over 58 years of barbershop experience. We come from different walks of life but all enjoy sharing rich harmonies and entertaining families & friends. Check out our bios and see how the quartet measures up to your expectations.
Repertoire:
Name that song... The quartet's song selection is varied and grows everyday. Looking for romantic?, patriotic?, modern?, spiritual? or old-time classics? You pick the style and we'll accommodate your occasion. Click here for a sample of our current song listing.
Recent Events:
What have we been up to?
Holiday Cabaret - Beverly, MA

Salem HS Concert - Salem, MA

Feast of the Blessed Sacrament - New Bedford, MA

Beverly Hosp. Volunteers - Essex, MA

Senior Center - W. Newbury, MA

Kernwood Golf - Salem, MA

Beverly Bash Benefit - Beverly, MA

Women's Club - Manchester, MA

Holiday Cabaret - Beverly, MA

Congregational Church - Boxford, MA

Danvers Senior Center - Danvers, MA

Beverly C of C - Beverly, MA

Angelica's - Middleton, MA

Masconomet Health - Topsfield, MA

Turner Hill Golf Club - Topsfield, MA

Beverly C of C - Beverly, MA

Immaculate Conception - Malden, MA

Annual Barbershop Show - Danvers, MA

Park Street Rehabilitation - Beverly, MA

Brightview Assisted Living - Danvers, MA

91st Birthday Party - Danvers, MA

Senior Center - Swampscott, MA

Stop & Shop - Beverly, MA

Hawthorne-By-The Sea, Swampscott, MA

Peabody House - Peabody, MA

Bartlett Mall - Newburyport, MA

Danvers Library Pavillion - Danvers, MA

Brightview - N. Andover, MA

HS Reunion - Salem, MA

Brookdale - Danvers, MA

80th Birthday Party - Lynn, MA

Topsfield Fair - Topsfield, MA

HS Fundrasier - Salem, MA

Bootstraps Benefit - Beverly, MA

Essex Park Rehab. - Beverly, MA
Updated: April 2017
Barbershop Links:
Meet Our Partners In Song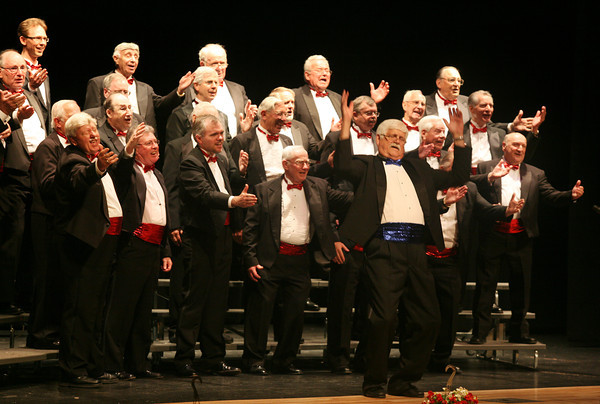 The Northshoremen Chorus - The barbershop chorus of Beverly, MA where we began and continue to enjoy the talents and camaraderie of our fellow members.

Northeastern District - The Northeastern District includes chapters from New England, New York plus our good friends of Nova Scotia & Newfoundland, Canada.
Barbershop Harmony Society - The Society is comprised of over 800 individual chapters and is the international parent organization of our quartet & chorus.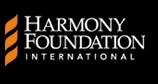 Harmony Foundation - The foundation is a nonprofit corporation founded in 1959 and is the philanthropic partner of the Barbershop Harmony Society.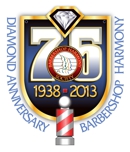 Music's in the air... the birds are singing... and so are we!
Award recipients of:
2015 Patriot Division "Senior Quartet Champions"
2014 Patriot Division "Most Improved Quartet"
We have some terrific events coming up shortly you don't want to miss:
february 14th 2020 - valentine's Day sINGOUTS - All Day
Throughout the greater North Shore area of Boston

For further information, please contact us via e-mail or phone: (978) 774-7177
April 1st - BEVERLY BASH - 7:30PM
Beverly, MA
april 17-19th - ned 2020 spring contest
Worcester, MA
Barbershop style? What's that?
Typically a barbershop quartet will have a lead singer singing the melody, with three other singers (a tenor, a bass, and a baritone) singing harmony.
Although barbershop-style music is usually built on simple melodies and is relatively easy to sing, the a cappella style and the ear training necessary for independent part singing make it one of the most challenging and rewarding accomplishments of a vocal ensemble. When the music is sung accurately and with good breath support and vocal techniques, barbershop harmony produces overtone vibrations that create a resonant ring unique to this form of music.
Men and ladies of all skill levels participate in this rewarding hobby and their abilities are as varied as they are. It's the coming together of these unique voices, talents and experiences that creates the space for an exciting ensemble.
"Voice lesson" - Who's singing what?
TENOR
is a harmony part sung consistently above the lead. The tenor has a light, sweet, pure tone that will complement but not overpower or overshadow the lead voice. Light lyric sopranos generally make good tenors.
LEAD
is the melody and is sung with authority, clarity, and consistent quality throughout their range. The lead sings with limited vibrato to add color and warmth to the sound. With too much use of vibrato the chord will not "lock" or "ring" or produce the unique full or "expanded" sound that is characteristic of barbershop harmony. The lead is responsible for conveying the interpretation, emotion, and inflections of the song.
BARITONE
covers approximately the same range as lead. The voice part is similar to Alto I except that baritone harmony notes cross the lead notes; primarily sung below the lead but sometimes sung above, depending on where the melody is situated. Baritones must constantly adjust their balance to accommodate their position in the chord. They need to have a good ear.
BASS
is the lowest note in the barbershop chord. Singers have a rich, mellow voice and generally sing the root and fifth of each chord. The bass sings a relatively straight, well-produced tone with a minimum of vibrato. The range is comparable to that of a contralto or Alto II in traditional choral music.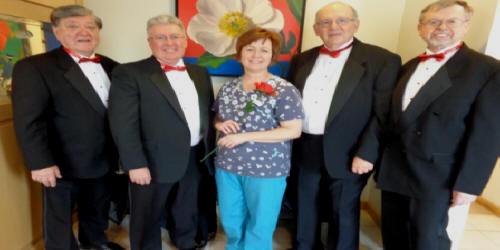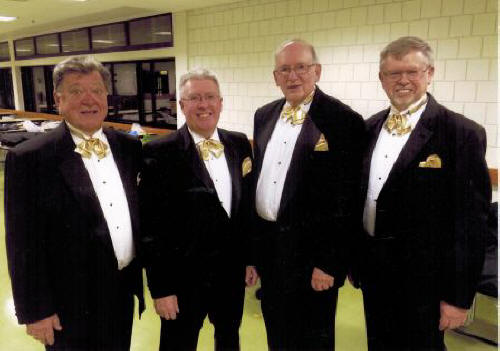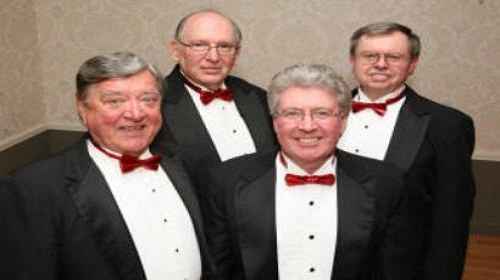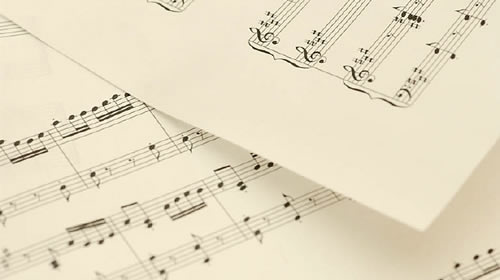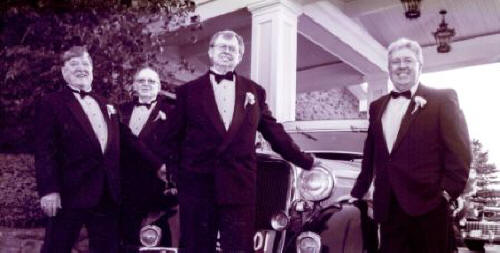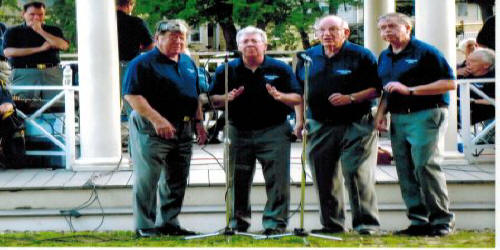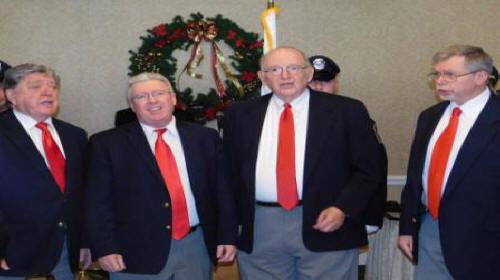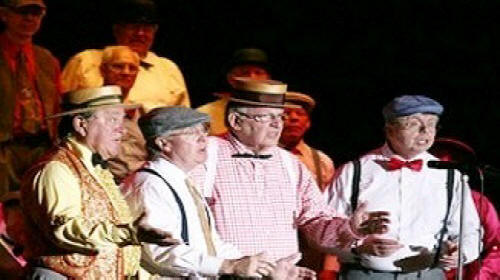 A Barbershop Quartet