Christmas Fun! December 2013
December was a busy month for the Christmas Chicks. They shared their love of harmony with the residents of Cumberland Lodge who were also delighted to sing along to some of their favorite Christmas songs. Then it was off to Canadian Blood Services to bring some joyful songs to people giving the "gift of blood".
The Christmas Chicks, Holiday Harmony, Me and Them, Sleepless and Spare Parts did
their very best this holiday season to bring the sounds of Christmas to the
Rideau Centre. Shoppers were treated to some of their favorite Christmas Carols
as they went about their holiday shopping.

Some even took the opportunity to stop and sing along or dance with their
favorite group. Great way to get that special Christmas feeling!
---
Christmas Concert Guests
On December 13 and 14, several Capital Chordettes performed with the Capital City Chorus as part of a women's guest chorus. While a snow storm raged outside, the warm sounds of Christmas 4-part harmony filled Dominion Chalmers Church.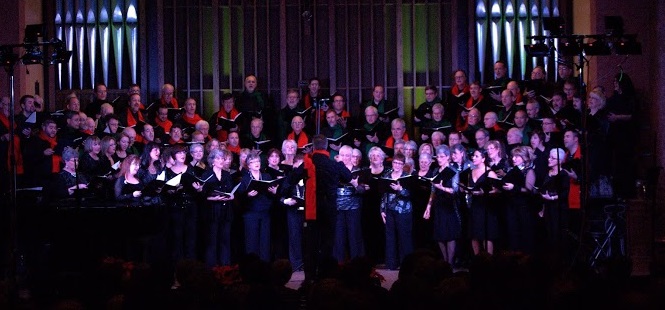 Singing under the direction of Denis Laflamme, and joined by the Red Hawk Rhythmics, a group of young singers from Smith's Falls, the highlight of the evening was performing Handel's "Hallelujah Chorus" accompanied by the majestic pipe organ.
---
Annual Craft Auction and Bake Sale – December 7, 2013
Once again our craft auction & bake sale was a huge success thanks to everyone who came to support this annual event. It proved to be a great way to stock up on Christmas baking & that extra special gift one can only find at an event like this. Our guests were treated to the sounds of strolling Christmas Caroler's as well as a performance by the whole Capital Chordettes Chorus. A great time was had by people of all ages!
The Chordettes financially support Children at Risk as their chosen charity. This organization provides services and programs to families of children diagnosed within the Autism Spectrum Disorders. That afternoon the Chordettes very proudly presented the Children at Risk with a cheque to help out with these very necessary programs.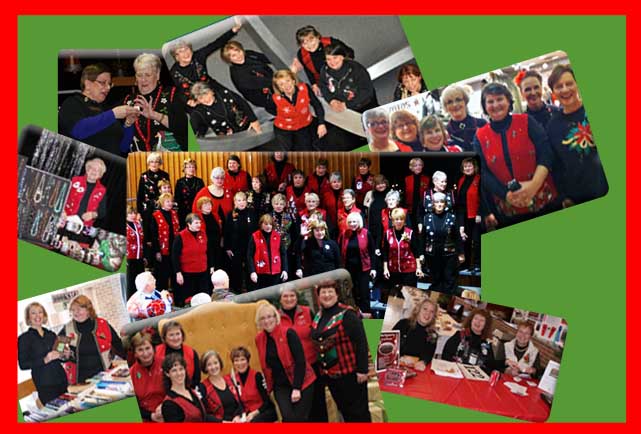 ---
Bruce House Anniversary
On November 30, the Capital Chordettes helped Bruce House celebrate its 25th anniversary with a Christmas Concert at the Church of the Ascension, including as guest choir, the Ottawa Gay Men's Chorus. Founded in 1988, Bruce House is a community-based organization providing housing, compassionate care and support in Ottawa for people living with HIV and AIDS, based on the belief that everyone has the right to live and die with dignity.
---
| | |
| --- | --- |
| September Swinging … | … and Singing |
| The Capital Chordettes golfers made their way to the Meadows Golf and Country Club for the 14th Annual BBC Charity Golf Tournament on September 25, 2013. This tournament was in support of the Make a Wish Foundation and in support of Children at Risk, a charitable organization providing services in the Greater Ottawa area to families of children diagnosed within the Autism Spectrum Disorders. Golfers set out to play a round of 18-hole 'best-ball' under beautiful blue skies. The Capital Chordettes registered 2 foursomes in the tournament. A 'swinging' good time was had by all those who attended! | Since the tournament was won by a men's foursome the Christmas Chicks retaliated by performing the hilarious song entitled "I Wanna Come Back as a Man". Singing and Swinging makes for an awesome day that is definitely "up to par". |
---
Sounds of Summer 2013 with the Capital Chordettes!

Summer began with a fun performance at the Blackburn Hamlet Fun Festival on June 1, 2013. The Farris wheel was spinning but the Chordettes kept both feet on the ground as they entertained people entering the site for a summer's day.

Singing for Seniors – June 20, 2013

There was a special performance for the seniors living at the Asher Place Apartments when the Capital Chordettes helped them in celebrating the 25th Anniversary of Asher Place.
---
Musical Murder Mystery Dinner Theater – June 7 & 8, 2013
Who done it? That was the question the audience had to decide at a recent Murder Mystery put on by the Capital Chordettes. Entitled HAIR TODAY – GONE TOMORROW and part of its celebration of 50 years of entertaining Ottawa audiences, the award-winning Capital Chordettes presented a Musical Murder Mystery Dinner Event.
The story unfolded around preparations for an upcoming wedding. The groom's snooty, upper crust family meets the bride's unrefined, ragtag kin at a beauty salon where they have been double-booked. With these mutually contemptuous families thrust together, much chaos and hilarity ensued.
Who done it?

The mystery was solved while the audience dined on a delicious, multi-course meal provided by the outstanding chefs of Algonquin College catering.
---
A Blast from the Past!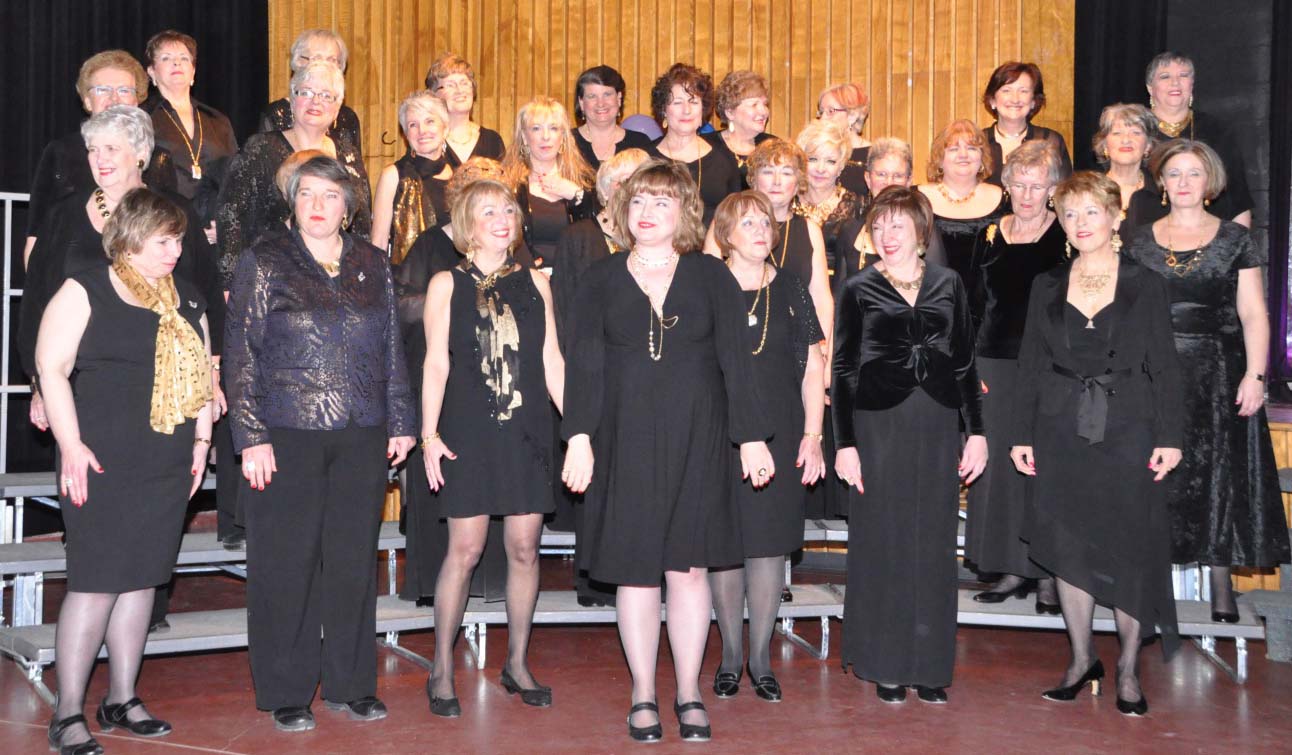 It was a blast from the past on March 9, 2013, as the Capital Chordettes, dressed in elegant black and gold in recognition of our 50th anniversary, hosted a Big Band Dance and Concert. Guests were entertained by selections from the 1930s to the present, everything from Glenn Miller and Count Basie, to the Beatles, to Broadway show tunes, to songs by Canadians Shania Twain and the Rankin family. The dance floor was full as couples swayed to the swinging sounds of our guests, Standing Room Only, a 15-piece big band. Smiles abounded and many positive comments were heard about the quality of both performances. It was a highly successful and fun-filled evening and, as one Chordette said afterwards, "such a high for everyone involved!" There were numerous requests for a repeat of this event next year. Stay tuned!
---
50 Years Of Singing: Let The Celebrations Begin!
| | |
| --- | --- |
| | On January 8, 2013, the current members of the Capital Chordettes ushered in a year of 50th Anniversary celebrations by welcoming former members to an evening of music, fun and the renewal of friendship. Two charter members were present and honored. A look at our "costumes through the years" was a highlight. In our rehearsal hall, decorated with photos, history books, banners and balloons, there was the buzz of conversation, the sharing of memories, laughter, great food, and of course, singing. |
| | Everyone was on the risers to perform "Sing and Celebrate". As sung by today's chorus, for the past 50 years, and looking forward to the next 50 years, we are truly "Happy Together". |
---
Out On A Chilly Night
| | |
| --- | --- |
| photo by Alison N. | On Monday evening, February 4, 2013, several chorus members, including quartet Group Therapy, braved the cold to perform for participants (including one of our own members!) of "Sleep Out For Youth Ottawa", as they camped overnight outside City Hall. Our singers came away both chilled and with a heightened awareness of the issue of youth homelessness in the nation's capital. Partner organizations in this fund- and consciousness-raising event were the Youth Services Bureau, the John Howard Society-Ottawa, Operation Come Home and Ottawa Salus." |
---
Singing the Anthem at Scotiabank Place
| | |
| --- | --- |
| The rafters at Scotiabank Place rang to the barbershop sound of the national anthem on January 9, 2013. The Capital Chordettes performed O Canada as the Ottawa 67s took to the ice for a game against the Oshawa Generals. | Come Join Our Song! |