Sweet Adelines Present Workshop

"Catch the Rhythm," a musical workshop presented by the Palo Duro Metro Chorus of Sweet Adelines to schools in Region 16 that are participating in Window on a Wider World, a program of the education department of the Globe-News Center for the Performing Arts. The Palo Duro Metro Chorus seeks to help enrich the learning experience for students and share their love of music by teaching singing in harmony, rhythm games and how a kazoo works.

The group has several workshops scheduled at schools in Amarillo, Hereford, Pampa, Wellington and Stratford and will reach more than 1,947 students with its musical programs. - Staff writer Bruce Beck, Amarillo Globe News

Article From:
Amarillo Globe News in
"Our Town" section 11-28-07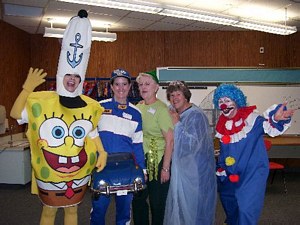 Palo Duro Metro Chorus
of Sweet Adelines members

Sandra Jenkins, from left, Kim Roten, Loretta Martin, Natalie Stephenson and Claudine Lehman entertained children with their "Catch the Rhythm" musical workshop in October at Hereford's Tierra Blanca Elementary School.