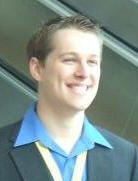 ***UPDATE***
As you can see, I have included two new pages, the guestbook and the contact page, check them out!
Thanks for visiting!
My name is Kyle Kitzmiller, and I sing bass in the 2007 5th-place International Collegiate Barbershop Quartet, The Goods. I have been following my dad around barbershop conventions and shows since birth, but I have been an official member of SPEBSQSA (now formally known as the Barbershop Harmony Society) for 13 years.
In high school, I was bitten by the "barbershop bug" and I needed to sing tags all the time, so to compensate for the lack of interest from singers my age, I started making my own 4-part recordings on my computer. Recording these tags for myself was a useful tool pointing me toward the Music Technology department at Ball State University. Currently I'm a senior, and in between singing opera, playing in the jazz band, and being a full-time music major, I find time to have a quartet, arrange music, and record tags.
A learning track can be a great resource for barbershop quartet/chorus singers, providing an audio learning tool to complement written music. When you can't have people around you to rehearse with, you can put it in your car, and sing along with the whole quartet, your part alone, or everything but your part--you choose. If you'd like a sample, feel free to listen to the media player above. Feel free to email me at kakitzmiller@gmail.com. Thanks for stopping by!