Member of: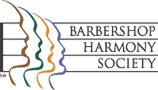 Welcome, one and all!
The Living Skies Chorus is a member of the Barbershop Harmony Society, the largest male singing organization in the world.
We are a singing and fun-loving organization. We meet most Monday night's at Knox-Metropolitan United Church (upstairs in the gymnasium) which is located on the north-east corner of Victoria Avenue & Lorne Street in downtown Regina, Saskatchewan, Canada. We enjoy singing, learning new music, and entertaining. If you're in Regina -- visiting or otherwise -- we'd be glad to have you come join us. Come sing with us, or just sit back and see what we're about -- the choice is yours. Feel free to give any of the chorus members a call (or email) if you would like more information, directions, or a ride to our meeting. You'll be glad you did!
What's happening
in our Chapter?
Updated on
November 21, 2010.

According to our

You are visitor #


Please send any suggestions or comments on this web site to the Web Master
Members Note:


Singing is Life!
The rest is just details.