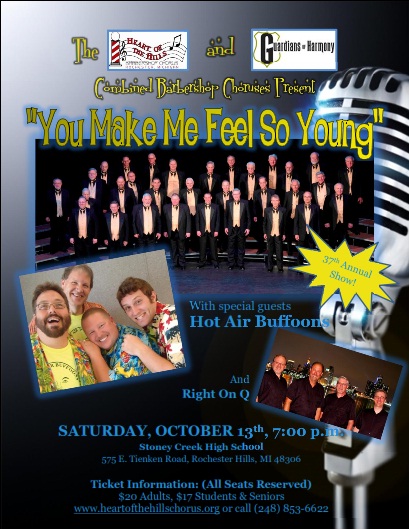 This year's annual show will once again be a combined show, consisting of both the Rochester Heart of the Hills Barbershop Chorus, as well as the Macomb Guardians of Harmony Chorus.  The show will feature the combined chorus presenting favorites from the "Rat Pack" era of the 1950s and '60s as well as two feature guest quartets Hot Air Buffoons and Right On Q.
Hot Air Buffoons
This Quartet offers a multitude of comedic outtakes and parodies on popular standards. They are known for keeping their audiences in stitches. During the most recent international contest, pitting the Society's top quartets from around the globe against one another for one of the coveted medals, the Buffoons placed within the Top 20, a very prestigious honor. Our show is also the only Michigan appearance for Hot Air Buffoons during 2012, so don't miss out on this great chance to see one of the Barbershop Harmony Society's premier comedy quartets! According to the Buffoons:
Despite our successes in the competition venue, our true love is to entertain. The

BUFFOONS

have performed on a number of chapter shows (pick any number between 1 and 1,000,000) and if you ask anyone that we have performed for, they will confirm that we are never serious (nor do we want to be). If you have seen us before, we hope that you have enjoyed our performance and have fully recovered from the injuries suffered from "sidesplitting" laughter. But, if you haven't had the chance to hear the unique style of the

HOT AIR BUFFOONS

, we encourage you to lock yourself in your storm cellar now, because before long, we'll be everywhere and you'll find yourself sucked into our stupid humor and crazy antics. We just ask one thing, DON'T MAKE FUN OF THE FAT GUY!!!!!!!!!!
Right On Q
This Pioneer District Champion quartet hails from the Metro Detroit area with all members of the quartet also maintaining membership with the Macomb Guardians of Harmony chorus. The group's tenor, Matthew Tipton, serves as the musical director for the Macomb chorus, while bass – Ed Bax, Lead – Ken Klein, and baritone – Rick Anderson are all current or past members of the chorus's board of directors.
Items of Note:
Venue: For those patrons who have joined us for past shows, please note that this year's show will be held at Stoney Creek High School, 575 E. Tienken Rd., Rochester Hills, MI 48306
Tickets: This year, we are also excited to offer several methods for purchasing tickets to the show. Ticket prices are $20 for adults, and $17 for students & seniors (55+), all seats reserved. Here are the details on ticket ordering options:
Online Ticketing

: For the first time in the 37-year history of the show, tickets are available for purchase online. If you would like to use a credit card for your show ticket purchases, this can only be completed through Web Store. This method is secure, and immediate. It allows you to select your own seats, which is also convenient for large groups. Note that only a single credit card can be used per order and that the seat selection page shows only the Adult price. You can change this before checkout on the Checkout page. If you would like to select and purchase your tickets online, please click on the SeatYourself logo below:

Order By Mail: Another easy and convenient way to order tickets is to download and complete the order form and mail it, along with a check for the total amount due, to the address on the form or give it to a Chapter member. Tickets will be delivered in not less than 2 weeks unless will call was selected as the delivery option. Ticket delivery by email is the fastest. We will choose Best Available seats at the time of your order unless specified otherwise on your order form. Tickets by check are required for any large groups paying separately yet want to sit in close proximity (please submit these orders elastic-banded together). For accessible or wheelchair seating requests, we will seat non-wheelchair members of the party near the wheelchair attendee. Download the order form HERE.

Order By Phone

: While all patrons are strongly encouraged to use either option 1 or 2 for ordering tickets, we do understand that those options may not be ideal for all patrons. For those who must speak with a live person, tickets may also be purchased by contacting Walt at 248.853.6622.
If you cannot locate your tickets on the night of the show, come anyway. We have a complete list of tickets and can seat you.