Their new CD is now available!
This recording contains 21 of the most popular of today's Dapper Dans songs (over 40 minutes of music!), including their best arrangements featuring the Deagan Organ Chimes. They are available at the Twentieth Century Music Company on Main Street, U.S.A. at Disneyland.
You can also order one by mail directly by sending a check for $17.00 (this includes $2.00 per item for shipping) made out to: Essgee Productions, 926 N. Catalina, Burbank, CA 91505
Please allow 2 to 4 weeks for delivery. Thanks for your support!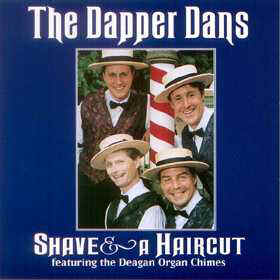 Including their favorite selections:
Twentieth Century Love

Wouldn't It Be Loverly

Remember Dad On Mother's Day

Walkin' My Baby Back Home

Swinging On A Star

Twinkle, Twinkle, Little Star

Moon Shine Tonight

Jeanie With the Light Brown Hair

In the Good Old Summertime

Heart
Who Will Buy?

Coney Island Washboard

All in the Golden Afternoon

Under the Sea

It's Ray-Ray-Rainin'

They're Off! (from The Great Race)

When I See An Elephant Fly

Doodlin'

When You Wish Upon A Star
Return to The Dapper Dans Today