The Dapper Dans got the job because Fred Frank had watched Mickie Finn's and then called Alex Plasschaert (choreographer for the show) and said, "Alex, you need us on the show." Alex had previously worked with the Dappers as a choreographer and knew their capabilities. So the quartet went up to Hollywood for the audition and when when they arrived they found their names were already on an episode planning board. Still, they auditioned and wowed the staff of Mickie Finn's and became series regulars.

Of all the TV shows the Dapper Dans have been on over the years, Mickie Finn's was probably the most important because the Dapper Dans became series regulars about half way through the run and often played a large role in the show's musical numbers and comedy bits. They would perform alone as a quartet or with the guest stars as well as do slapstick routines. In addition, when the show ended, the Dapper Dans went on the road as regulars with the Mickie Finn stage show, including performances at Caesar's Palace and The Cocoanut Grove.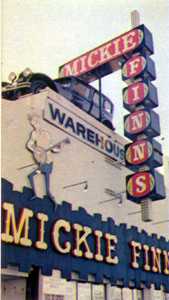 The original Mickie Finn's in San Diego, California:
"America's #1 Speakeasy."
The set on which this riproaring series was taped was a replica of the warehouse in San Diego that Fred and Mickie Finn had converted into a rambunctious "Gay '90s/Roaring 20s/Swinging 30s" nightclub.
Opened on October 28, 1960 on University Avenue in the Hillcrest section of San Diego, California, Mickie Finn's seated 600 people, but usually 1000 were crammed in. Red-haired piano player Fred Finn, 21 (one had to be 21 years old to get a liquor license), was a recent graduate of San Jose State College where his thesis to acquire a degree in business administration was "How to Start a Night Club With No Operating Capital." He went $70,000 in debt to open Mickie Finn's and had just sunk his last $1000 into paint, plumbing, lighting and fixtures to convert the cold, barnlike building into Mickie Finn's. The place grossed $250,000 the first year. Over the next 14 years, 4 million jolly customers consumed 250,000 gallons of beer. Fred and Mickie also later opened a second nightclub in Beverly Hills on Restaurant Row in the new Los Angeles Emporium.