Disneyland After Dark
Airdates: April 15, 1962 and July 1, 1962.
Cast: Walt Disney, Louis Armstrong, Bobby Rydell, Annette Funicello, Bobby Burgess, Monette Moore (Singer), Kid Ory (Trombone), Johnny St. Cyr (Banjo), Harvey Brooks (Piano), Alton Redd (Drums), Mike De Lay (Trumpet), Paul Barn (Clarinet), The Elliot Brothers Orchestra, The Dapper Dans (John Borneman, T.J. Marker, Fred Frank, Roger Axworthy), The Osmond Brothers, The Royal Tahitians (Dancers), Tony Paris (Musician).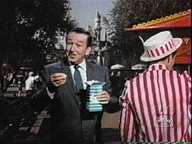 Walt Disney is our host in a special
evening tour of Disneyland.
Walt Disney's favorite time of day at Disneyland was when the lights came on after dark. He is our host as we experience the sights and sounds of the Magic Kingdom at night. In the first segment, the Dapper Dans are shown riding their 4-seater bicycle in a parade of Disneyland vehicles down Main Street. Shortly thereafter they are featured at length on the Main Street porch singing "Carry Me Back To Old Virginny," (complete with comedic hat routine conceived by John Borneman) to a laughing and appreciative audience.
Released theatrically as a short subject overseas in 1962, and domestically in 1963, this was the network television premiere of the Osmond Brothers.
Richard M. Sherman and Robert B. Sherman, who were later to write the music for Mary Poppins, wrote the title song for this episode.