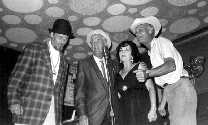 "Paulie Piano," (piano player) Bub Thomas, Billie Bird and Miles Middough casually performing together at Roaring 20s. Billie Bird was performing her act at the club at the time. These kind of impromptu performances were very common at the club.

Billie Bird, Dick Ferrin and Bub Thomas playing the Deagan Organ Chimes at Roaring 20s. Behind Dick is a sketching pad where Bub would do a complimentary caricature for patrons - SEE YOURSELF AS BUB THOMAS SEES YOU.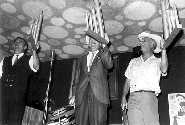 Dick Ferrin, Bub Thomas and Miles Middough playing the Deagan Organ Chimes on stage at Roaring 20s. Bub always had a set of organ chimes on hand, as well as assorted other instruments, ventriloquism dummies, props and other novelties.