"1904 World's Fair"
Our local grocer is heading to the 1904 St. Louis World's Fair, hoping to wow them by soaring high in the sky in his wacky hybrid machine, the "albatropter." This inspires the other men to concoct their own inventions, related to their respective vocations, and the fun begins. Songs include: There's A Great Big Beautiful Tomorrow, Get A Horse, Hello! My Baby, Twentieth Century Love, Electricity, Those Magnificent Men In Their Flying Machine, Chimeology, Meet Me In St. Louis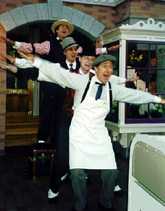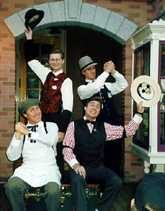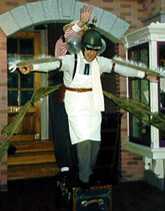 "Baseball Fever"
While giving a shave, our barber is suddenly called up to take slugger Ty Cobb's place with the Detroit Tigers. His fellow teammates in the "Main Street Magpies" try to prepare him for his big chance at fame in the big leagues. Songs include: Hi, Neighbor!, It's A Beautiful Day For A Ballgame, The Star Spangled Banner, Take Me Out To The Ballgame, When You Get Home Runs (parody), Hello! My Magpie (parody), Heart, Sunny Side Up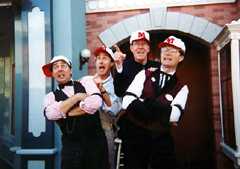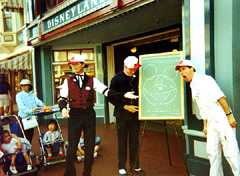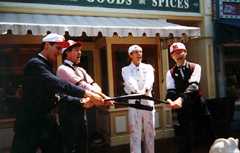 "We Need A Little Christmas"
When the perennial Santa Clause in the Christmas pageant takes ill, the Dapper Dans have to scramble to find a replacement. They attempt to instill the Christmas spirit in the reluctant banker and convince him that he is perfect for the starring role. Songs include: Silver Bells, We Need A Little Christmas, It's Beginning to Look Like Christmas, Jingle Bell Rock, Rudolph the Red-Nosed Reindeer, Silent Night, Joy To The World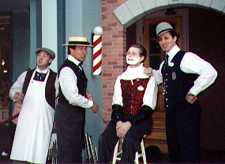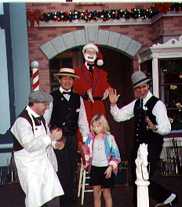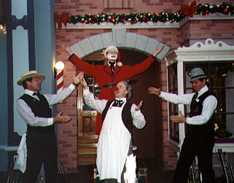 "Get The Girl"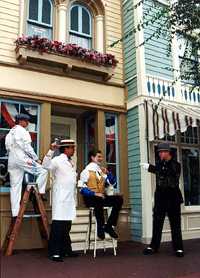 While giving the banker a shave, the barber is confronted by the Constable, who wants to cite him for "shaving outside without a license."
In the ensuing chaos, the Constable is distracted by the joy of singing with the other men. Soon enough, the citation is forgotten amidst the soothing sounds of this newly formed barbershop quartet. They then proceed to woo the lovely ladies that grace Main Street with their plaintive harmonies.
Songs include: Down Our Way, Standing On The Corner, Chopsticks, Mr. Sandman, I Never Wash My Eye Without An Eyecup, Cruisin' Along In My Old Model T

Return to The Dapper Dans Today