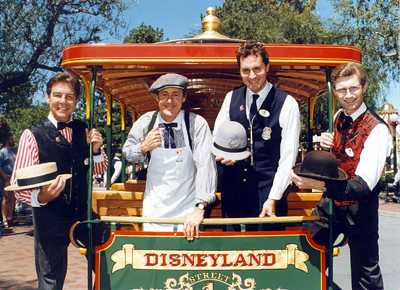 Shelby Grimm (lead/barber), Tim Reeder (tenor/grocer),
Jim Campbell (bass/Constable), Bill Lewis (baritone/banker)
Today's Dapper Dans have been singing together since December of 1997 at Disneyland Park on Main Street, U.S.A. The Dapper Dans today seek to build upon the great tradition of Dapper Dan quartets of the past, while making their own mark for the future. They have taken on the roles of men that live and work on Main Street, U.S.A. who come together to form the Dapper Dans barbershop quartet: the town barber, the grocery store owner, the Constable and the banker. Since 1996 their traditional vaudevillian colorful striped costumes are only worn for certain special events.
The Dapper Dans perform year-round, Monday through Friday. For specifics see:
Current Performance Schedule at Disneyland
Their ever-growing repertoire of over 100 songs includes: 19th Century American folk songs, turn-of-the-century barbershop classics, ragtime, jazz standards, swing tunes and modern pieces from musical theatre and Disney animated films. Many contain choreography, tap-dance, vaudevillian routines and Deagan Organ Chimes.
In addition to performing their standard repertoire, the Dapper Dans also conceive, write and develop a variety of sketches performed on Main Street, U.S.A. These sketches incorporate their roles as townsfolk.
The current foursome has been instrumental in numerous high-profile special events for the Disneyland Resort.
Other recent successes have included an appearance on ABC's Home Improvement.
The Dapper Dans, both current and alumni, were recently honored as founding members of the Main Street U.S.A. Disneyland Honorary Chapter of S.P.E.B.S.Q.S.A. The Society for the Preservation and Encouragement of Barber Shop Quartet Singing in America.
They have completed a new CD recording - "Shave and a Haircut." This recording contains 21 of the most popular of today's Dapper Dans songs (over 40 minutes of music!), including their best arrangements featuring the Deagan Organ Chimes. Make sure and go to this page to find out how to get the CD.