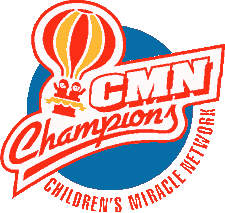 1986 Children's Miracle Network Telethon
Airdate: May 31, 1986 (KHJ-TV, Channel 9, Los Angeles)
This 21 hour telethon generated funds and awareness for associated children's hospitals, health centers and foundations across the United States and Canada. In 1986, the year-long effort to help hospitalized kids culminated in the telethon broadcast from the Videopolis stage at Disneyland in Anaheim, California. The national hosts were Marie Osmond, John Schneider, Merlin Olsen, Marilyn McCoo, Paul Anka, Jim McMahon and Malcolm Jamal-Warner.
During the first evening of the broadcast, the Dapper Dans (Shelby Grimm - lead, Jerry Siggins - bass, Jim Schamp - tenor, Ron Browne - baritone) participated by doing their "Mouskeshow" songs and routine which included some of the CMN poster children helping to play the organ chimes and becoming Honorary Mousketeers. During their segment, they interacted with host Merlin Olsen, who at one point good-naturedly commented that some of the Mousketeers (The Dapper Dans were dressed as Mousketeers) had gray hair.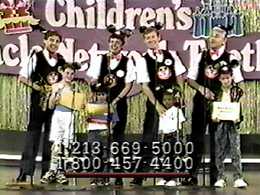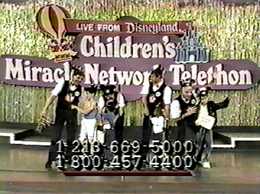 Shelby Grimm, Jim Schamp, Jerry Siggins, Ron Browne
The Children's Miracle Network was co-founded in 1983 by entertainers Marie Osmond and John Schneider. Through a network of sports and entertainment personalities, corporate supporters, and 200 television stations, funds are generated to benefit kids treated at 170 hospitals throughout North America. The hallmark of Children's Miracle Network is that 100 percent of locally-generated donations stay in the community in which they were made to benefit children at participating hospitals. In the past 14 years, CMN has raised more than $1 billion for its member hospitals. CMN member hospitals treat children with all types of afflictions and needs including: cancer, heart and muscular diseases, birth defects, cerebral palsy, AIDS, mental illness and accident victims.